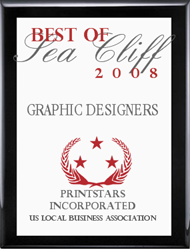 Printstars' graphic design and art department is a sophisticated, technologically advanced arm of our operation. Our graphic artists have degrees from four year accredited institutions in fields ranging from graphic design to illustration. When it comes to visual communications, we feel this gives us an edge over the many petenders among our competitors.
The design department is where we give your ideas birth, sculpt identities, and forge the implements of your marketing success. You bring us your thoughts, hopes, dreams, and we give you the means to reach that potential. It's a pretty good system. The technicians in Printstars' prepress department apprentice under Technology Manager Bill Silberberg, an Ivy League alumnus and graphic designer who has been managing art departments for over a decade.
When you send us your work, you can be sure your photos will be clear, your colors will be rich, and font and separation issues will be addressed by some of the most capable hands in New York.
We specialize in printing what no one else can, whether journals in MS Word, full color Publisher brochures or shifty Power Point presentations. Whatever your challenge is, if it is important to you, it is important to us. Our experience and ingenuity make it possible.
Custom Art and Marketing
Design—Do not pay a retainer to an overpriced ad agency! Contact us for your design work, big or small. We are available for projects of any size, and bring the added benefit of our prepress knowledge to the print quality of our work when we do both the design and printing of a job.
Printstars Marketing Group—PMG is the marketing wing of Printstars' special services. Veteran copy writer and advertising guru Robert Kaplan, and New York agency consultant Dr. Irving Slessar bring world class experience, advice and competence to any business venture.
M2 Imaging Group—For extended projects or design work requiring special attention, Printstars calls on the artists at the M2 Imaging studio. Through M2, Printstars offers web design, 3-D imagery, technical illustration, fine art and cartooning. With this resource, no job is too large, even considering our busy schedule. Contact Printstars first for any of your graphic design needs.
Digital Computer Mastery
Software—Printstars maintains a current software library to ensure that your needs are met. We use professional design software ourselves, and can accept files in acrobat format or any standard native format.